Call us for your survey today
530-577-4815
Some of the different land surveys we provide:
Boundary Survey
A boundary survey serves the purpose of locating the corners, boundary lines, and/or easements of a given parcel of land. This involves record and field research, measurements, and computations to establish boundary lines in conformance with the Professional Land Surveyors Act.
The corners of the property will be marked with stakes, pipes, or other such monuments with my Professional Land Surveyor's license number indicated on them (or another surveyor's license number if monuments are found).
A Record of Survey or Corner Record will be filed with the county when these monuments are set, indicating dimensions of property lines, monuments, and other relative data as required by the Professional Land Surveyors Act, the client, or others. This map or record is often required by state law, to protect the general public, if matters addressed by the Land Surveyors Act are encountered while surveying your property. This will cause the mapping costs to increase, and requires the payment of checking and recording fees.
(more)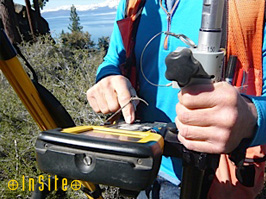 Topographic/Coverage/Site Planning Survey
These types of surveys locate the topographic features – natural and manmade – such as buildings, improvements, fences, trees, streams, contours of the land, etc. This type of survey may be required by a government agency, or may be used by engineers or architects for design of improvements or developments on a site.
A topographic/coverage/site plan will satisfy the requirement for one portion of a Tahoe Regional Planning Agency (TRPA) site assessment submittal.
(more)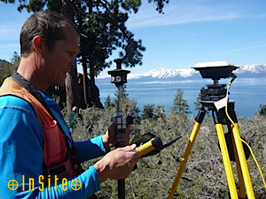 Control Survey
A control survey measures the precise location of horizontal and vertical positions of points for use in boundary determination, mapping from aerial photographs, construction staking, and other related purposes.
(more)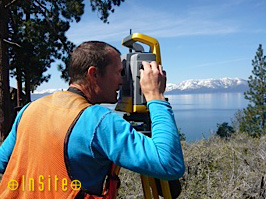 Construction Survey
Construction staking is used to establish the correct location of structures shown on improvement plans for constructing roads, pipelines, buildings, etc.
(more)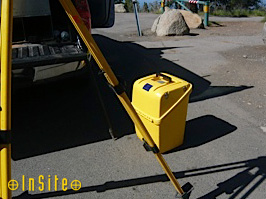 ALTA/ASCM or Extended Title Insurance Coverage Survey
An ALTA/ASCM survey is made for the purpose of supplying a title company and lender with survey and location data necessary for issuing American Land Title Association or Extended Coverage Title Insurance.
(more)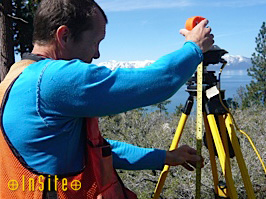 FEMA Flood Elevation Certificate Survey
If you have received a letter stating that your property is in a flood zone, we can help you determine what your next step should be. If field surveying is required, we will determine if your property is, in fact, in the flood zone or not. Upon completion of the survey, a LOMA, LOMR, and/or a Flood Elevation Certificate will be submitted to FEMA for their review.
(more)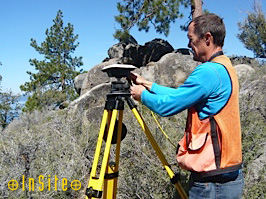 Boundary Line Adjustments
Boundary line adjustments require a combination of a boundary survey, and usually a topographic or coverage survey to get the process started. We will coordinate with the government agencies, your title company, and the county surveyor throughout the process.
(more)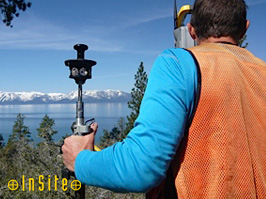 Call us for your survey today!
530-577-4815